Create a Safe Workplace with SOLUXION's Remote Support! | Controtek Solutions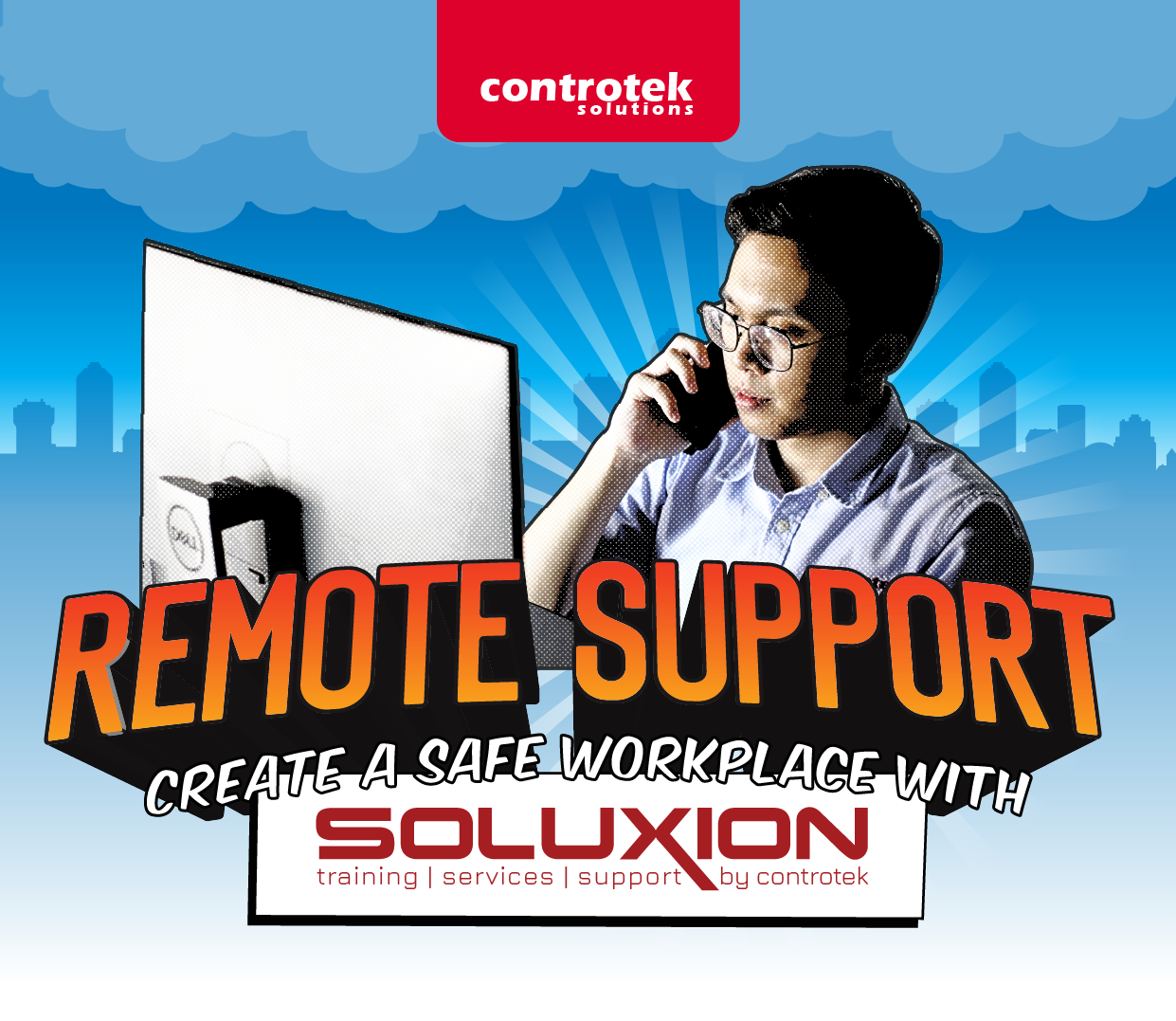 As we all know,  COVID-19 has brought us into a worldwide health crisis that affects our day-to-day lives. It has disrupted even big sectors such as business and manufacturing. It requires us to conform to what is now called the "new normal." As dreary as it sounds, not everything should be a dead-end. Most of us are beginning to adjust and have found ways that even with a looming disaster, provide individuals and organizations great flexibility and avenues of success.
Some are opting for work-from-home schemes, some are reducing manpower attendance, and others are looking for remote access and support.
Usual operations require face-to-face human interactions, close contact to other people, daily public commute to work, and other activities that needs physical presence which subjects their workforce to be of close contact with other people which heightens the risk of contracting the virus. What most of us haven't considered is most of these are avoidable, and the only thing they only need is a reliable partner that could ease you into troubleshooting and resolving operational problems without the need of being physically there.
What is Controtek's SOLUXION® Remote Support?
Remote support is a service in Controtek's SOLUXION® customer support system that enables technical engineers to have remote connection on the machines for remote troubleshooting, monitoring, and diagnosis to help ease plant downtime and increase production.
Our remote capabilities include:
• Secured remote connection via openVPN
• Monitoring
• Troubleshooting
• Maintenance
Here are some factors why you need remote support.
Health and safety
The current pandemic requires less and less people-to-people contact to help prevent the spread of the virus. Remote support is an effective approach in maintaining efficient plant operations with minimal physical interactions.
Minimized cost
Avoid support costs, such as travel expenses, lodging, and food.
Immediate response time
Immediate technical support response, even after work hours if needed.
Less downtimes
System issues will be checked right away and be resolved faster.
IT-approved
Simplified User and Policy Management, Firewall-Friendly and Layered Security Strategy.
Access to latest industrial cloud technology
End-users also learn how to connectedly remote to their systems.
Easy access to online data
Programs can be easily monitored and checked online.
How do we make it happen?
Here is a diagram on how we assist  a concern through remote support: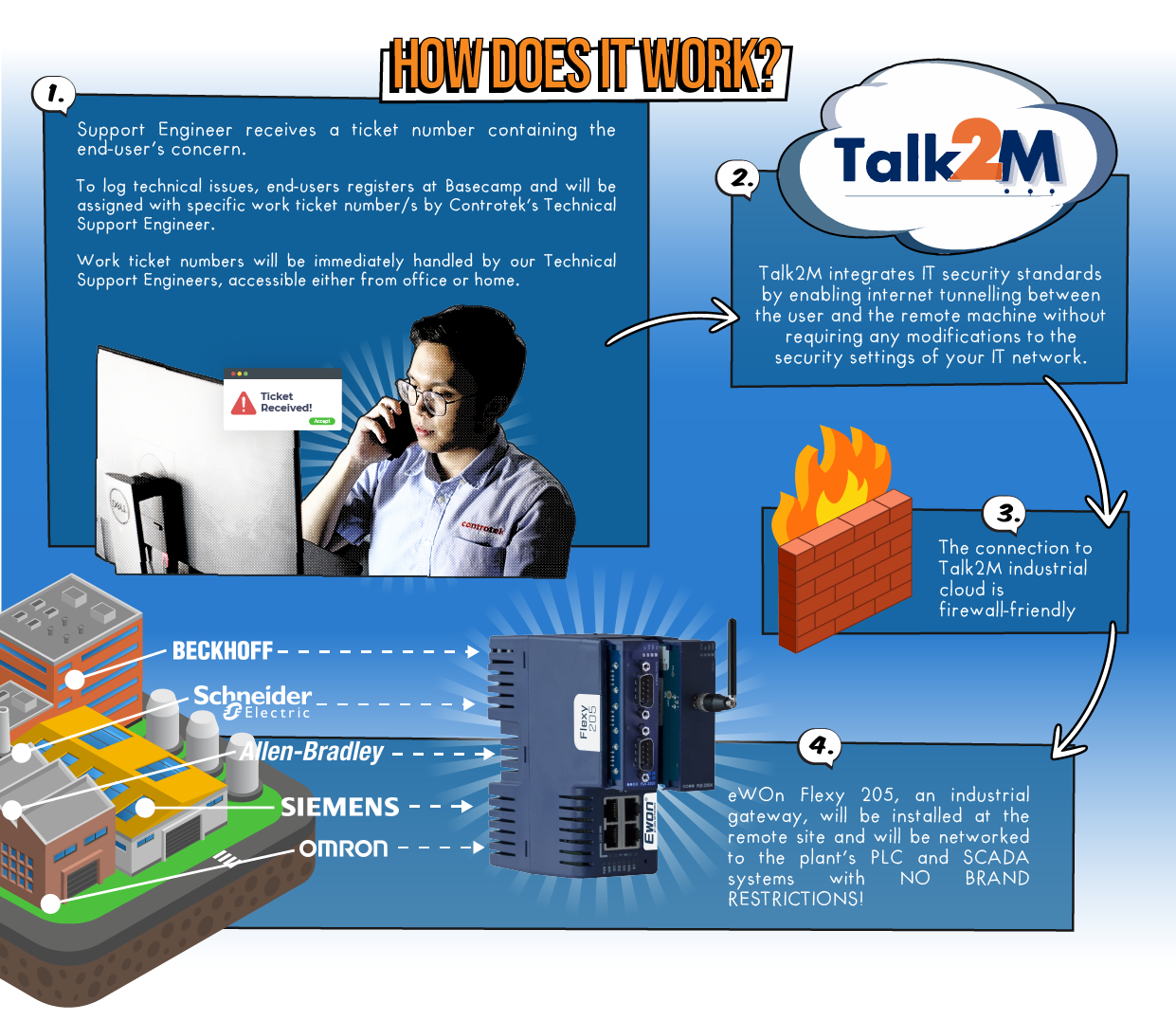 Extra layer of security with the FREE Ewon Flexy 205
Every subscription of SOLUXION® Remote Support comes with a FREE unit of Ewon Flexy 205 which will be installed on site.
The Ewon Flexy 205 is an advanced internet data gateway that allows Machine Builders to monitor and collect vital KPIs for analysis and predictive maintenance. With data logging, alarming, built-in web interface, scripting and enhanced internet connectivity, the Flexy 205 is a modular Internet Gateway for your IoT deployment. It also supports VPN Remote Access for easy troubleshooting of your distant industrial equipment.(1) It also ensures secured connection through VPN which gives users additional confidence.
Read more about Ewon Flexy 205 here.
It also comes with a starter's guide containing basic operation and troubleshooting of the unit. It also contains contact information of our Support Division.
These are just few of the many advantages why availing for a trusted remote support service is important. Learn more about Controtek's SOLUXION® service, we'll assist you on integrating this with your current setup.
Click here to download the brochure and FAQ sheet.
Talk to us today! Reach us through the following:
Email:
info@controtek.com
support@controtek.com
Phone:
(02) 8729 1110 | (02) 7507 5518