Features
We offer unique features to allow you the flexibility in your data collection. An automated, accurate, real-time data collection software solution providing superior process visibility on any device, the ability to accurately track losses and a continuous stream of improvement opportunities.
Cloud Services
We offer a web-based application that run via cloud or local server. This features allows the end-user the flexibility in data collection.
Automated Data Collection
Captures data automatically, saving you time and money.
Automation is the fastest, most accurate and most reliable form of capturing data, minimizing the requirement for operator input and manual input in spreadsheets.
Quick return on investment.
Pays for itself within 6 months.
Our software is easy to install, use and maintain and immediate OEE gains of 5% - 10% are common.
Real-time performance response.
Reduce 'time-to-action' cycle.
TraceOEE™ monitors performance in real-time, meaning it can alert you to OEE losses before they even happen, not after the event. If OEE losses can be predicted they can also be avoided.
Modular Applications
Only pay for what you need when you need it.
TraceOEE™ is a modular application from basic OEE monitoring to a more advanced solution. It can be upgraded from a standard application to enterprise and expanded to plantwide SCADA visibility.
Highly visual system.
The system Identifies, quantifies and delivers continuous improvement opportunities.
With TraceOEE™ you will have the ability to see into your processes and have a clear understanding of your top losses with the most potential for improvement. It will also inform you what you need to do to address these losses to deliver increased bottom line profits.
Highly configurable and expandable
Select and build functionality to meet your specific business needs.
TraceOEE™ is highly configurable so you will have the ability to customize reports and intelligence dashboards to suit your business. You will also receive frequent releases of the software in response to new customer's needs and industry trends.
Functionality
TraceOEE™ Downtime Monitoring
The TraceOEE® Production Monitoring module monitors the performance of production lines in real-time. The healthiness and  diagnostics of critical equipment is being observe automatically by integrating the controllers, PLC, and needed machine signals to TraceOEE® Embeded PC.
TraceOEE™ Production Monitoring
The TraceOEE™  Production Monitoring module shows in real-time the overall efficiency by monitoring the 3-main factors, Performance, Quality, and Availability, automatically from machine level, production line level, up to the entire manufacturing plant.
TraceOEE™ Production Plan Board and Scheduler
The TraceOEE® can be integrated to any ERP system like SAP or Oracle to get a real-time Process Order, materials inventory, and as well linking the production output to warehouse management.
Implementation
Up and running in weeks, with immediate OEE gains of between 5% and 10%
TraceOEE is quick and easy to implement, with improvements within 3-4 weeks. immediate OEE gains of 5-10% are common with a typical R.O.I in less that 6 months.
Multiple options to automatically collect data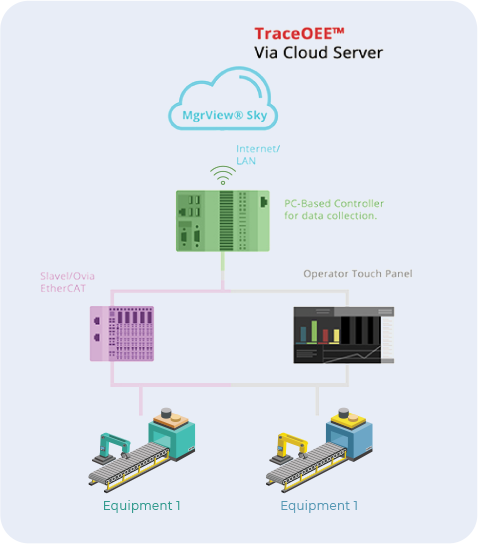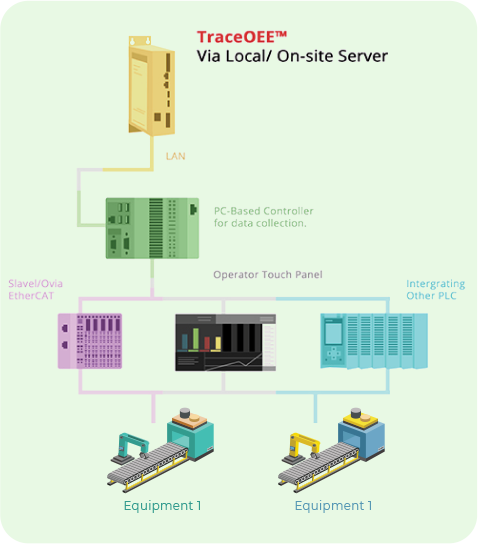 Service Plan
Standard
Subscription for 2-production lines, Additional charge for additional production line
TraceOEE™ Production Monitoring based on the heartbeat signal from the bottleneck machine.
OEE Dashboard and Reporting.
Export to excel
FREE PC-Based Controller for data collection and link to Cloud server.
One Year Subscription
Email/ Phone/ Online Support
Unlimited number of production lines.
Unlimited number of user
No additional software license needed.
Subscribe
Professional
Subscription for 4-production lines. Additional charge for additional production line
All the Standard feature plus:
Real-time Downtime Monitoring
Real-time Plan Board
Interface to Production Planning
More signals from the machines
Data collection from lines via EtherCAT slave modules
Integration of the existing PLC and link to TraceOEE™
Subscribe
Enterprise
Subscription for 2-production lines. Additional charge for additional production line
All Professional feature plus:
Real-time OEE Dashboard from machine to line to Plant level.
Production Performance Line Analysis with full report, graphs, and visualization
Optional Local Server for TraceOEE™.
Integration of SCADA
Integration of ERP/ MES
Access of the TraceOEE™ via secured viewer or mobile phone
Real-time SPC Statistical Analysis of both OEE and non-OEE parameters
Provides an additional, optional software module Accelerate based on the Six Sigma DMAIC
Subscribe